Congrès à venir

Congrès d'Imagerie du Genou - Samedi 21 Mai à Bordeaux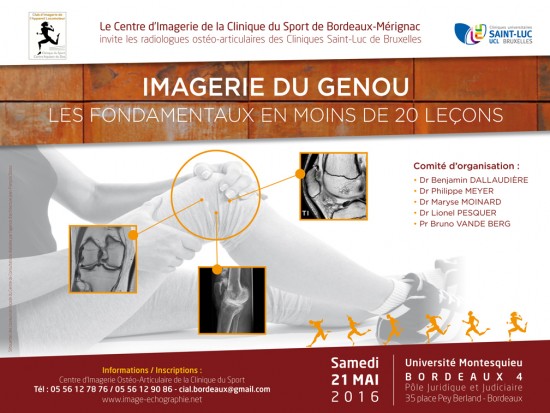 Programme - Bulletin d'inscription
Congrès de l'ESSR (European Society of Musculoskeletal Radiology)
Genou et Cheville
ZURICH du 9 au 11 juin 2016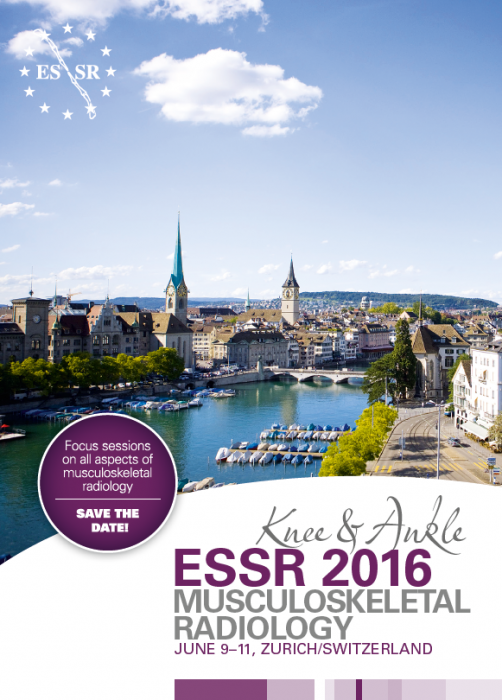 Congrès Annuel de la SIMS sur l'Epaule
PARIS les 24 et 25 juin 2016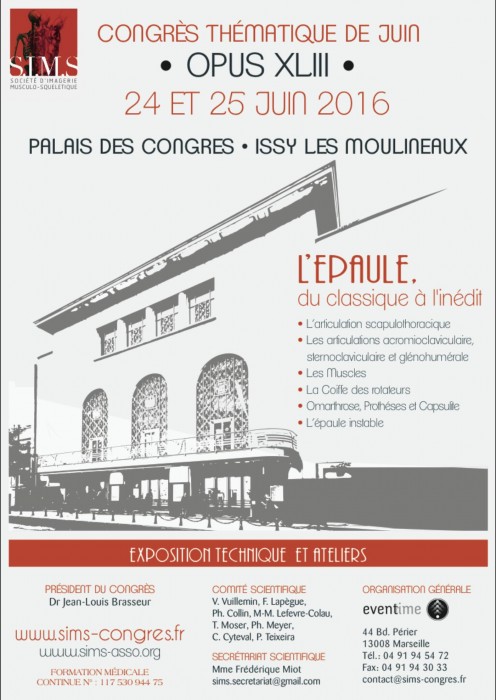 Dr Lionel PESQUER : Le conflit sous acromial : mythe ou réalité?
Dr Marie-Hélène MOREAU-DURIEUX, Dr Philippe MEYER :
Atelier d'échographie : Epaule les fondamentaux.
Congrès de l'ISS (International Skeletal Society)
43 rd Annual Meeting and Musculoskeletal Imaging Course :
Fundamentals to advanced concepts
7 - 9 septembre Paris Mariott Rive Gauche Hotel
2016 ISS Ultrasound Course
6 septembre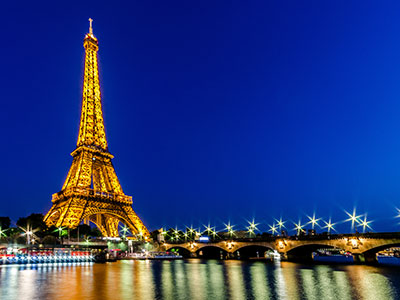 Dr Benjamin Dallaudiere :
Date: 9/8/2016

Time: 01:50 PM– 02:00 PM

Concurrent Session: Musculoskeletal Disease - Day 2

Session: Rapid Fire - Technique

Title: Traction MR Arthrography of the Wrist
SIMS IRM Musculo-Squelettique : de la clinique à la technique

Paris 20 - 21 Juin 2014

Dr Benjamin DALLAUDIERE :

La diffusion osseuse.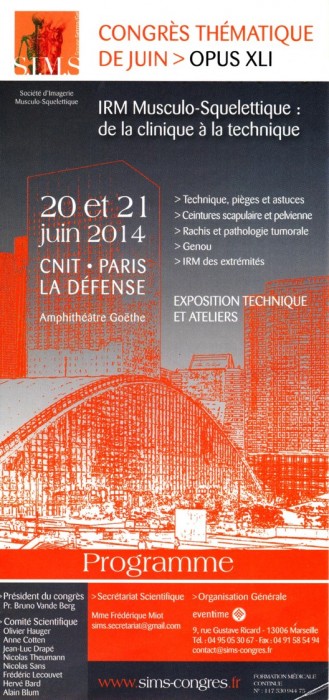 European Sociaty of Musculoskeleral Radiology

Riga 26 - 28 Juin 2014

Dr Lionel PESQUER :

Ultrasound of adductor's tendinopathy with surgical correlation.

Dr Benjamin DALLAUDIERE :

* Comparison of apparent diffusion coefficient in spondylarthritis axial active inflammatory lesions and type 1 Modic changes.

* Efficacy of intra-tendinous injection of Platelet Rich Plasma under US guidance to treat tendinopaty. Assessment on a long term follow-up experience.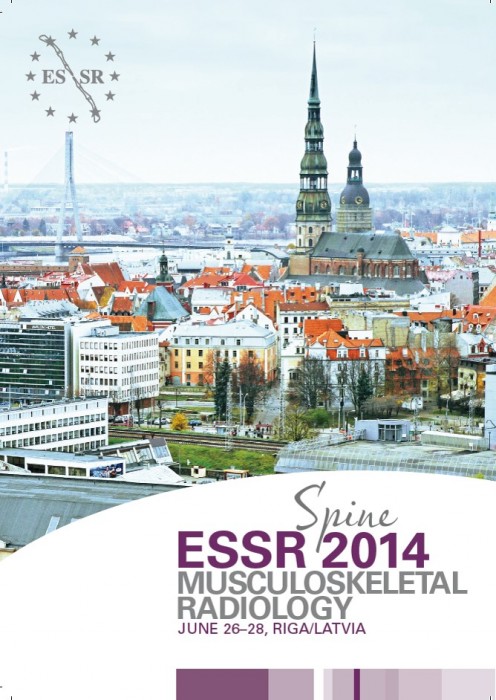 Congrès du CARP (Cercle Aquitain de Réflexion sur le Poignet)

La Main : de l'Imagerie à la Clinique CAPC Musée d'Art Comptemporain de Bordeaux Samedi 27 septembre 2014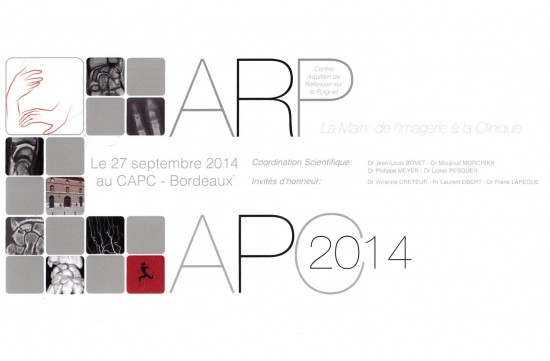 Première Journée Européenne sur la PUBALGIE

Cité Mondiale Bordeaux Vendredi 3 octobre 2014